How could we adapt to a hotter future?
With summer heat waves becoming longer, hotter, and more frequent in the coming decades this future explores how creative design and strategic placement of shade in the urban core can reduce heat exposure for Valley residents while maintaining a vibrant and healthy community feel.
Iconic changes in this future include gradual increases in tree canopy, solar shading techniques, and urban density. By 2060, the city has achieved a 50% shade cover (green and grey), is a leader is solar energy production, and requires residential greywater recycling in all new and existing homes.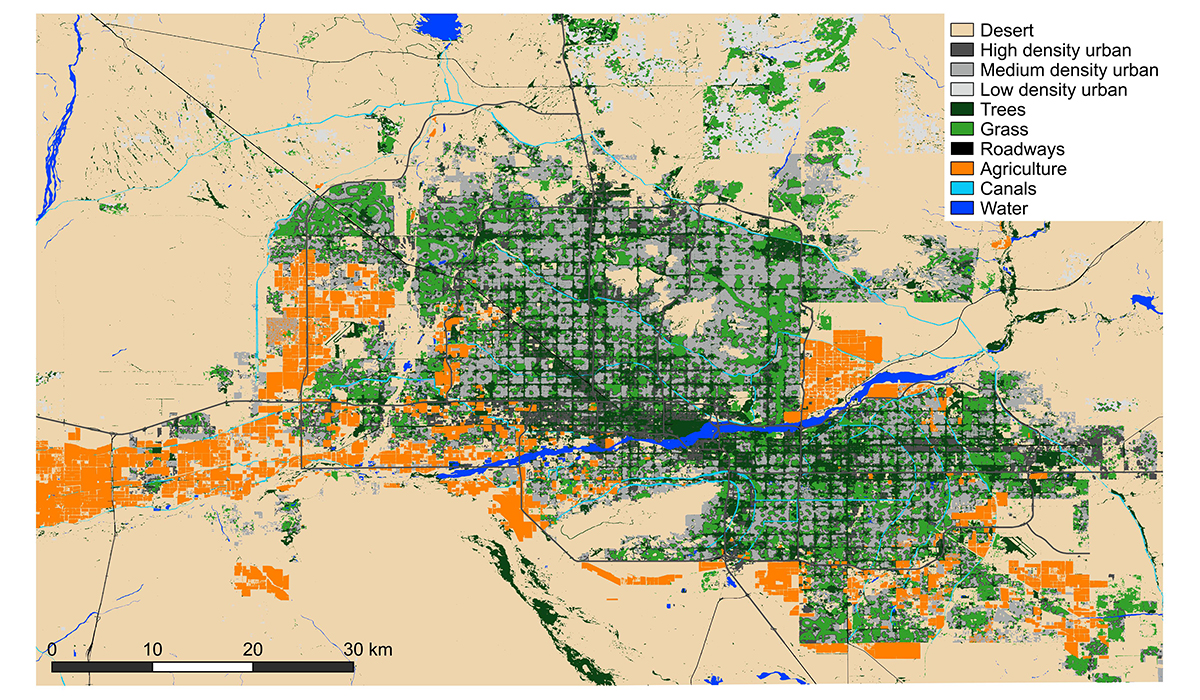 Regional Land Use and Land Cover 2060
In this future, sprawl development has decreased and agriculture has been redistributed on a smaller scale throughout the urban area. Green and grey shade canopy cover increased significantly. Canals and light rail are primary forms of transportation, and also serve as open space corridors.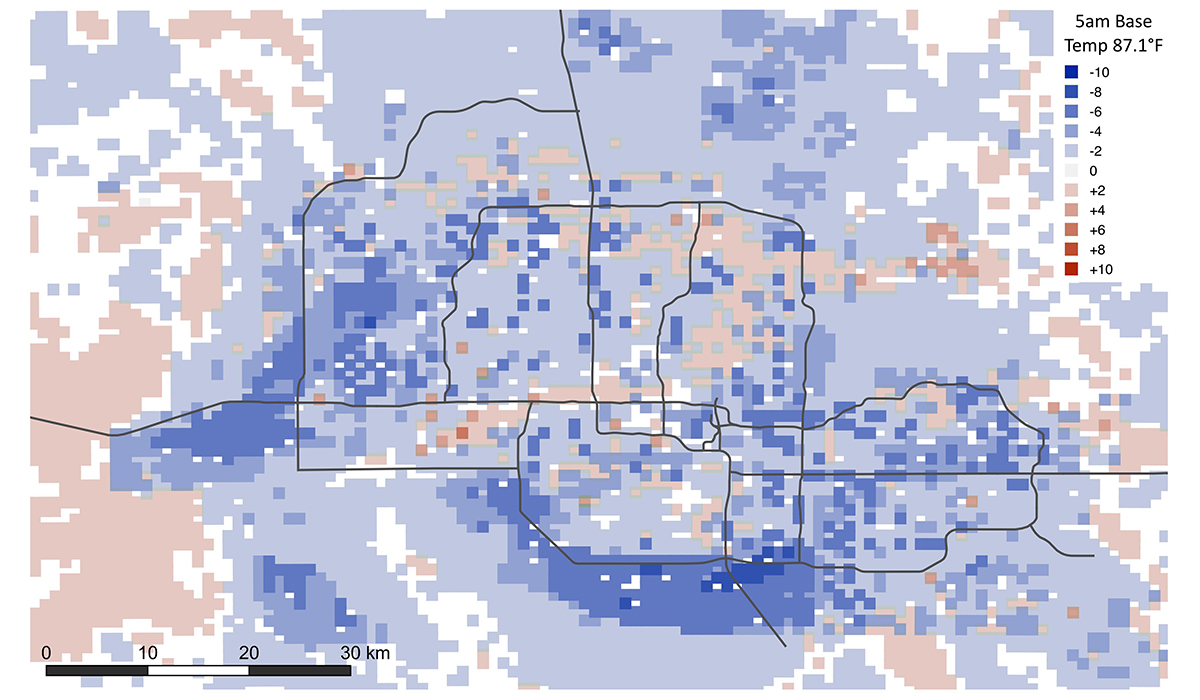 Regional Heat 2060
While the urban core temperatures do not change much, the decrease in urban sprawl contributes to an overall temperature reduction as indicated by the darker blue around the region. Within the urban core, unnecessary pavement especially along light rail and canal corridors has been replaced with other, less heat retaining materials. Half of parking lots and transit stations are shaded with a mix of green and grey shade.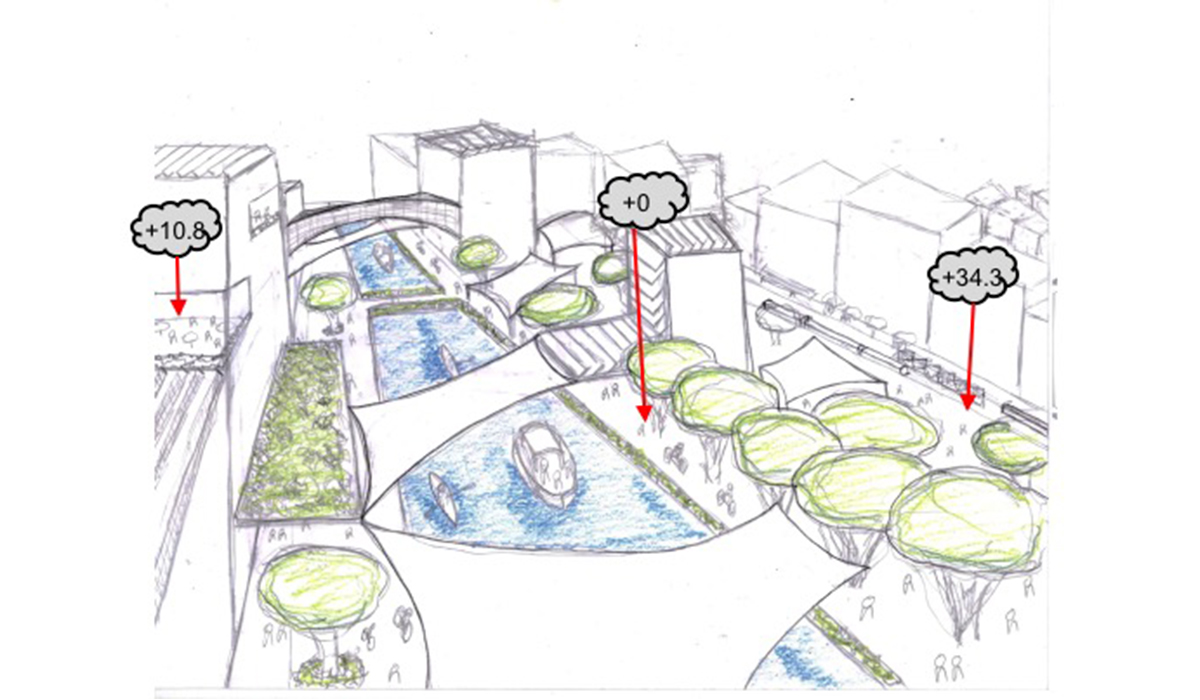 Thermal Comfort 2060
The base temperature in this rendering is 113.1°F. Temperatures vary depending on level of shading and proximity to heat retaining materials (e.g., asphalt). This future canal is lined with high-density mixed-use buildings, solar panels, vegetated terraces and other shade. Temperatures near the canal and under vegetated spaces are significantly cooler than open areas near the light rail or buildings. Design features that reduce heat in this future include mitigation and adaptation strategies such as permeable paving, extensive vegetation, building configuration to promote shade, and solar building materials.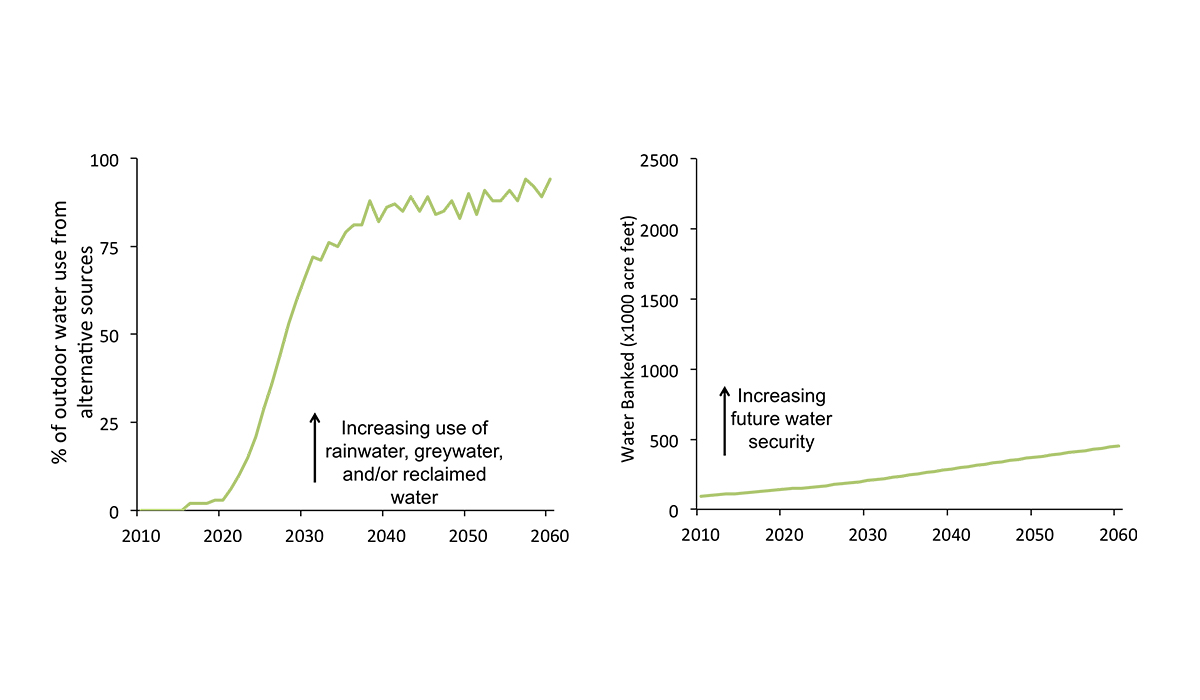 Outdoor Water Use from Alternative Sources & Water Banked for Future Use 2060
To support increased vegetation that promotes cooling, this future incentivizes residential, commercial, and industrial greywater retrofits along with other water conserving technologies. Additionally, landscapes are designed to capture rain and stormwater for onsite (re)-use that increases water conservation in this future. While there is an increase in groundwater recharge, it is predominantly through infiltration rather than direct banking for future use, and thus future water security (i.e. the amount of water banked) in this scenario is lower than in some others.
Previous
Next