What does it mean to balance climate risks?
Considering the challenges of flood, heat, and drought, the Emerald City future focuses on reconfiguring land use and urban form to support multiple needs. The repurposing of freeways into multi-modal transportation networks that bisect canals create connected hubs across the urban area where density and vegetation are concentrated.
Iconic changes in this future include simultaneous decreases in personal automobile use and increases in public transportation access and service, which are facilitated by transformations to the existing transit system. Tree canopy cover and urban density are also consistently increasing. By 2060, the majority of existing freeways have been converted to multi-modal transit corridors and the region relies on 100% solar energy.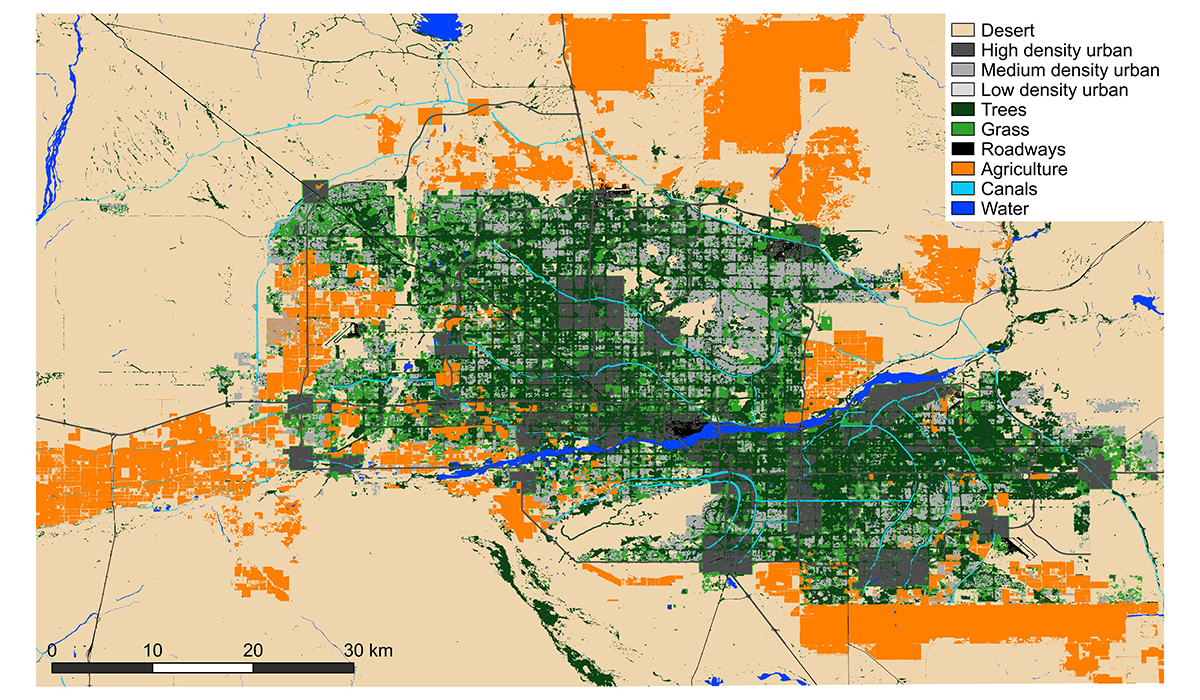 Regional Land Use and Land Cover 2060
In this future, 75% of 2015 freeways have been repurposed into multi-modal transportation corridors. Transecting these corridors are existing canals that have been transformed into oases traversing the city, carving out a new urban form. This new transportation network along with enforced growth boundaries has encouraged inward and vertical development, specifically concentrated at intersections of the greenway network.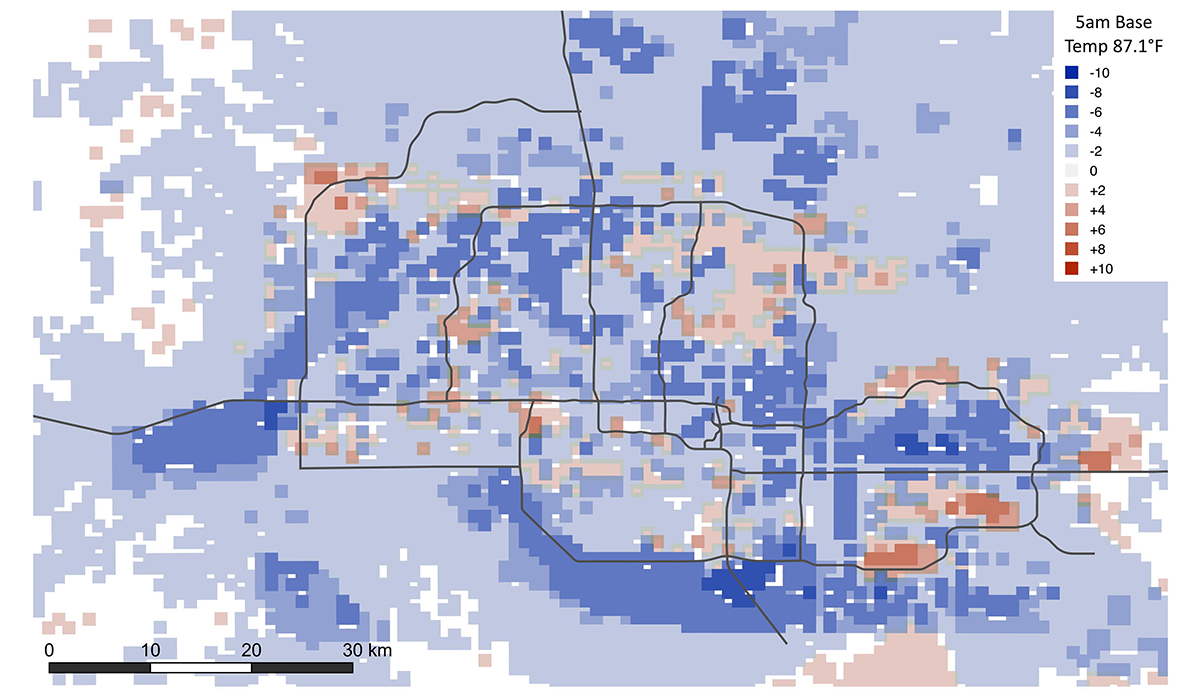 Regional Heat 2060
There is significant cooling in this future due to the extensive greenway network and emphasis on inward, vertical development. For example, 25% canopy cover, vegetated building facades and public spaces, along with increased urban agriculture throughout the urban hubs, have also contributed to overall regional cooling.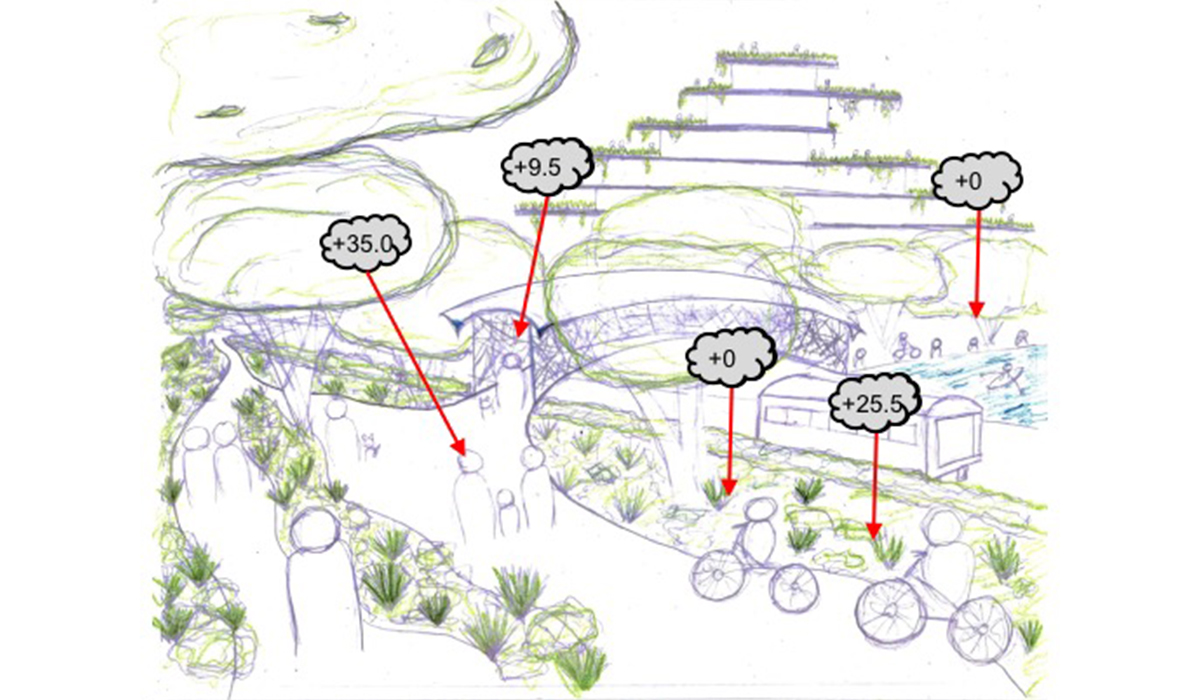 Thermal Comfort 2060
The base temperature in this rendering is 110.4°F. Temperatures vary depending on level of shading and proximity to heat retaining materials (e.g., asphalt). While this future is one of the coolest, local temperatures still vary depending on level of shading amenities. Buildings are designed to support vegetation and provide shade.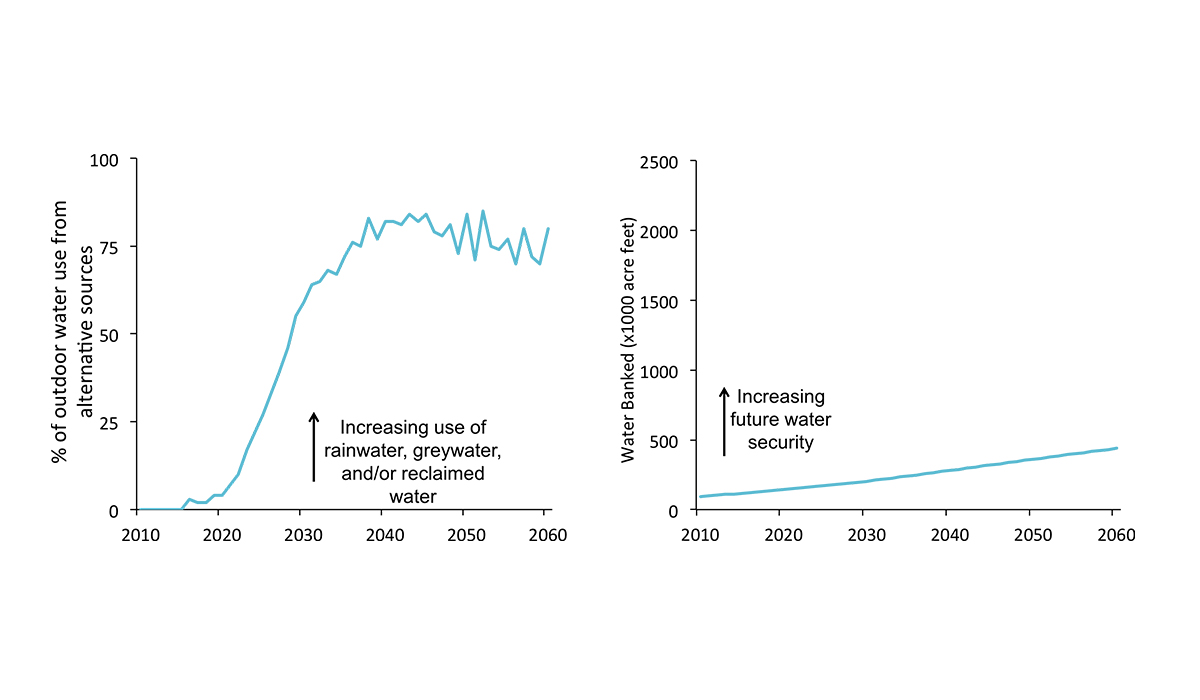 Outdoor Water Use from Alternative Sources & Banked Water for Future Use 2060
To support the increases in on-site vegetation for cooling while also addressing concerns of future drought, this future invested in alternative water technology and relies heavily on decentralized greywater, rainwater, and stormwater capture. Design features like solar bridge walkway also capture water for outdoor irrigation where the vegetation is primarily low water use xeric or drought-tolerant. There is an increase in groundwater recharge, but it is predominantly through infiltration rather than direct banking and thus does not provide significant extra water security for the future.
Previous
Next