Stardust Student Fellowships
Stardust provides nonprofit organizations the opportunity to host a School of Sustainability intern for a semester by offering paid fellowships. This internship program engages students in the area of affordable housing, by embedding them "on the frontline" with local providers, creating a "win-win" opportunity.
Benefits to students
Interns earn three credits, a modest stipend and real-world work experience. They integrate classroom knowledge into a professional work environment as they learn multiple aspects of an organization and sector, as well as make valuable connections. They also build career competencies.
Students: To learn more about current opportunities and apply, visit Sustainability Connect.
Benefits to nonprofits and agencies
Local providers receive free assistance and 135 hours of time toward accomplishing a short-term project or initiative, as students bring new ideas, fresh perspectives, skills and talents to nonprofits. They also offer leadership opportunities for employees to mentor and supervise interns.
Local providers: Interested in hosting a Stardust Student Fellow? Contact Caroline Savalle at Caroline.Savalle@asu.edu or (480) 965-5487.
Stardust Culminating Experience Scholarship
In addition to the fellowship program, Stardust offers a limited number of scholarships ― up to $2,000 a semester ― to support exceptional Master of Sustainability Solutions (MSUS) students who propose culminating experience projects that address and advance the need for affordable and workforce housing. These projects share a recognition that healthy and sustainable communities provide a means for families to obtain, remain in and manage their homes. Culminating experience projects may use the tools of research, community engagement, education or public forums to raise awareness and build capacity to address the needs for quality, affordable homes.
Featured Student Scholars
Ethan McCloskey, Stardust Undergraduate Fellow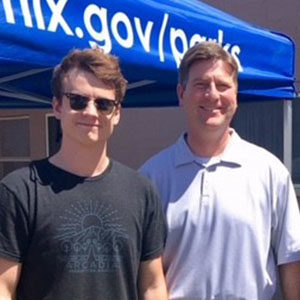 Ethan McCloskey, an undergraduate student at the School of Sustainability, used his drive and work ethic to participate in an Stardust internship with the City of Phoenix. The department was so impressed with McCloskey that they hired him after graduation to expand upon his internship projects. He worked on various projects under Housing Program Manager Assistant and ASU alum Bailey Spears. He managed and oversaw the implementation of the GR:D bike share for the Edison-Eastlake housing community to expand transportation options in the Valley. He also researched and compiled information for the LEED-ND certification within choice neighborhoods.
McCloskey candidly shared the challenges he faced during his internship, saying he worked to overcome his limited experience in workplace culture. At times, he felt he had to make quick, gut-feeling decisions with little to go on and that made him nervous. However, he says he felt supported in his endeavors. The outcome of the internship was an increase in the number of GR:D bike memberships. Proud of that work he complimented Caroline Savalle, who taught the corresponding course for the internship: "[Savalle's] class really helped me develop my professional skills and I learned to network effectively in the professional business world."
McCloskey advised future interns to "keep an open mind. In my experience, it is rare that the internship is exactly what you were expecting. Just work hard, keep an eye out for full-time positions that will be opening and, most of all, do not be scared to get your name out there so that people know that you want a full time position after the internship. You have to be willing to go out there and get it!"
Elizabeth Van Horn, MSUS student, Culminating Experience Scholar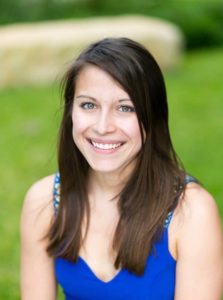 When she learned about a call for proposals to create a local Urban Land Institute Task Force for Health and Equity, graduate student Elizabeth Van Horn volunteered to support the proposal with research and writing that would also serve as her applied projects for her MSUS and Master of Urban and Environmental Planning degrees. After the grant was awarded, the ULI Arizona District Council Task Force for Health, Equity, and Housing Affordability was created and Van Horn had found her culminating experience project.
The Task Force held many meetings to determine how they could best contribute to the affordable housing conversation in Arizona, and Van Horn's project changed several times over the months leading up to her final semester. Ultimately, the task Force elected to focus on workforce housing solutions—an often overlooked and underfunded segment of the housing market. Her final product was a set of workforce housing development solutions and a sustainability assessment tool for evaluating those housing solutions.
Van Horn outlined best practices for developing and implementing six tools to spark workforce housing — off-site construction, cohousing, land banks, missing-middle infill models, community land trusts combined with limited equity cooperatives, and public-private partnerships. The best practices were organized to serve as guidance for the public and private sectors, as well as for embedding health and social equity in housing solutions.
Elizabeth wrote that she was "incredibly lucky to work with so many amazing people serving on the task force and working at ULI. Kristen Busby of ULI Arizona and CJ Eisenbarth Hager of Vitalyst Health Foundation both had a tremendous impact on me. They provided insightful feedback on my applied projects and helped me translate my work from an academic format to a format fitting the housing industry and related stakeholders. Because of them, my work was made more valuable and useful for Arizonans. My mentors and my Culminating Experience Project taught me to be a better project manager, writer, communicator, and colleague."