Sustainable Headquarters
Headquarters for the Julie Ann Wrigley Global Institute of Sustainability is the ultimate in sustainability – a recycled building. Originally constructed in 1964-65 and home to the College of Nursing and Healthcare Innovation, the building was completely renovated in 2007-08 to integrate sustainability features that reduce consumption and waste and enhance the quality of life for students, faculty, and staff.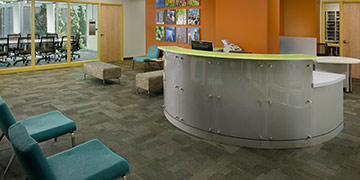 Design choices
Renovators strategically removed exterior brick to create breezeways and increase natural lighting. Common areas and collaborative workspaces were infused with daylight to reduce energy consumption and increase informal interaction and productivity.
Solar shades added to office and conference room windows decrease air conditioning use by reducing solar gain and glare in summer. Open breezeways shaded by drought-tolerant native vines reduce HVAC loads and provide natural ventilation.
---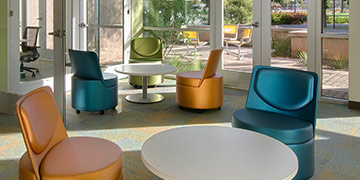 Furniture and Interiors
Carpet tile and GreenGuard-certified furniture throughout contain high recycled-material content and are themselves recyclable at the end of their useful life. Both carpet tile and furniture are modular in design, allowing for replacement of worn components without having to replace the whole.
---
Plumbing and Irrigation
Plumbing and irrigation upgrades reduce water consumption. Dual flush toilets (regular flush for solid waste and reduced-water flush for liquid) reduce water consumption by at least 30%, while waterless urinals save 40,000 gallons of water per year per unit.
An automatic, weather-sensitive irrigation system waters drought-tolerant native plant landscaping that beautifies and shades the building. All drinking fountains and water stations provide filtered water to reduce plastic water bottle waste.
---
Construction Materials
Renovators recycled construction debris whenever possible. A new energy efficient roof eliminated the need for toxic chemicals and adhesives for installation.
New R30-rated insulation resists summer heat from entering the building. Low volatile-organic-compound emissions interior paints help provide a healthy working and learning environment.
---
Renewable Energy
Wind turbines on the roof produce electricity from thermal updrafts and winds of 5 mph or more and can each generate 1KW of electricity at maximum capacity.
Solar panels on the roof provide 24 KW of electrical capacity as part of Arizona State University's campus solarization plan.
---
Windows and Lighting
Occupancy sensors save energy by turning off lights when offices are not in use. Strategically placed skylights help reduce energy consumption during daylight hours.
Lifetime light bulbs that produce a high relative brightness – more than 90 lumens per watt versus 1 lumen per watt typical of traditional incandescent bulbs – reduce waste, maintenance, and cost.