City: New York
Country / US State / US Territory: New York
Type of Solution: Canal
Climate Impact: Extreme Precipitation and Flooding
Social Value Created: Water Security and Quality; Public Health and Safety; Public Space; Active Living and Recreation
Cost: $1.5 million
Funding Source: Public health; access to public space; water quality; recreation; redevelopment and brownfields
In 2010, the canal was named an EPA Superfund site, and the Sponge Park project emerged as a solution that would not only remediate the site and prevent future pollution but also improve access to a number of public spaces. Currently, the NYC area does not meet federal water quality standards for swimming, fishing, and wildlife habitats due to its inability to prevent pollution, particularly sewer overflows during heavy rain events. The water quality poses a health hazard to community members.
Gowanus Canal Sponge Park was built to manage stormwater, helping to slow, absorb, and filter polluted surface water runoff. Street runoff is captured and stored in underground tanks, which are then filtered by artificial wetlands and then released into the canal. The park is estimated to capture and treat 1 million gallons of storm water annually. This project will help to improve water quality in the surrounding waterways for recreational use and protect wildlife habitat.
The New York City Department of Environmental Protection (DEP) and Department of Design and Construction also built 70 curbside rain gardens in South Brooklyn. These additional rain gardens can manage 133,000 gallons of stormwater runoff and will capture an estimated 6 million gallons of stormwater runoff annually. Long-term, the project aims to create 11.4 acres of revitalized canal space, 7.9 acres of public spaces and 3.5 acres of remediated wetland basins.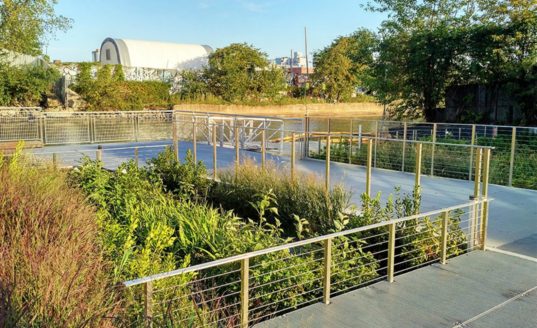 Sources
Atlas. (n.d.). Gowanus Canal Sponge Park. Retrieved from https://www.the-atlas.com/project?id=249#.